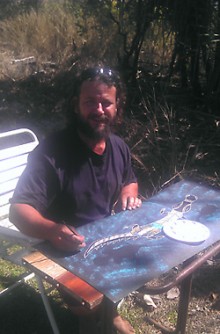 An awesome batch of new Earl Clements Didgeridoos and artwork has arrived and is now online. A popular maker at Spirit Gallery, Earl is a rare talent who can produce both high quality didgeridoos and intricate detailed artwork.
This is the first time Earl has painted for us the fine rarrked style of Western Arnhem Land on a different medium ( i.e. acrylic on canvas). In these paintings Earl depicts the freshwater, saltwater and land animals of the top end of Australia in the classic crosshatch style of the Western region of Arnhem Land, close to where he resides.
We are also excited to announce Earl has decided that Spirit Gallery will be the exclusive store where his artwork and didgeridoos are found. After having worked with Earl for many years we have developed a very close and productive relationship and are extremely excited he has trusted us with showcasing his talents to the world.
Having his didgeridoos alongside Australia's other top didge makers and having his artwork in Sydney's largest and busiest Aboriginal arts and crafts store will be a win-win. So what are you waiting for? Check out the Earl Clements Didgeridoos and Earl Clements Artwork.