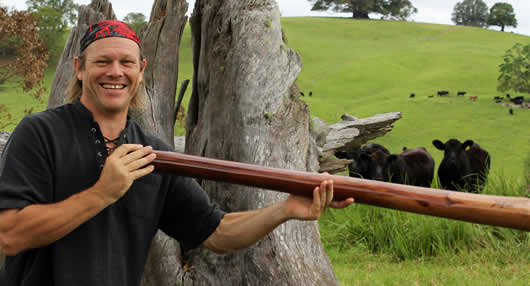 Introducing our newest maker Les Peach of Les Peach Didgeridoos!
Actually,  Les has been in the gallery for almost a year now but being such a meticulous craftsmen his didges have only arrived in one's and two's and are often gone before we have a chance to get them online.
BUT NOT ANYMORE – Les has now ramped up production and has his own "didge wall" at Spirit Gallery with a promise to keep it full at all times!
We have 7 beautiful new Les Peach didgeridoos now available. The work in these instruments is of the highest quality with a sound and finish that has impressed even the most fastidious of our customers. Did we say finish!! The coat on these is about as close as perfect as you can get. The smoothest, shiniest and most impressive finish we have ever seen. You won't believe your eyes when you get your hands on one of these.
So Who Is Les Peach?
Les is originally from the UK and began his working career in the Royal Navy where he trained and qualified as an engineering technician. He served 8 years in the navy before leaving and then moved into various engineering positions both in the UK and abroad.
 
It was in 1993 that Les discovered and fell in love with the didgeridoo. He was working under contract in the Falkland Islands at the time and was introduced to the didgeridoo by his brother. This particular didgeridoo was of poor quality but nevertheless, Les felt that there was something very special about this instrument; its sound and energy …and so the journey began.
 
Les bought his first didgeridoo in 1995. He taught himself to play through listening to a music cassette tape that featured renowned indigenous player Alan Dargin.
Les continued the journey with his new found passion for this unique instrument. He searched for other didgeridoo music played by skilled artists and, of course, worked on developing his own level of skill and competence. His journey also led him to seek out quality instruments to buy for his own personal use and collection, but this aspect proved to be particularly challenging to say the least.
 
Les always had a love and admiration for Australia as a country in its entirety and one day he made the conscious decision to apply to live there. His dream came true when his visa for permanent residency was granted and he moved to Darwin in the Northern Territory in March 2004.

 
This was a dream come true in many ways including the birth of an opportunity to make his own didgeridoos. Good quality didgeridoos were still not easy to find even in Australia but this was not the only driving force that set Les out to learn what proved to be a whole new trade; the satisfaction of playing an instrument that was sourced from nature and personally crafted by hand was an experience that appealed in conception and later, most definitely proved to deliver in reality.
 
Over the course of the next 13 years, Les Peach Didgeridoos were born, weaned and guided to their mature level of development as they have become today.
Why are his didgeridoos so impressive?
Les Peach has a background in engineering where a high standard of application and work ethic is necessary to be successful. This coupled with his obsessive nature, perfectionism and attention to detail has brought the standard of his didgeridoos a cut above.
All Les Peach didgeridoos are crafted by hand from the authentic native eucalyptus timbers sourced from the Northern Territory. All didgeridoos are of musical instrument grade and are made with keen amateurs and professionals in mind who are looking for that special, clean and pure sound.
 
The timber itself is fully dried and seasoned before it is worked on. This gives the resonance and sound its full quality from the outset and ensures that the wood has fully settled minimising any risk of cracks or splits occurring later on.
 
Les Peach Didgeridoos are fully coated inside and out with a high-end professional product that has an extremely low porosity rating and thus will not be notably affected by moisture and ambient temperature changes.  The coating is also exceptionally tough and will "hold" the timber in the toughest of conditions.
 
Every step has been taken and no expense spared in researching and sourcing the ideal product for a coating that would afford maximum protection and minimise detraction from sound quality whilst still giving a pleasing, high-gloss appearance.
The finish on a Les Peach didgeridoo is  absolutely gorgeous, highlighting the beauty of the timber, and just screaming out quality!
 
Every Didgeridoo carries the Les Peach didgeridoo logo and a unique serial number and are tuned to their natural key.
 
Les Peach's handcrafted didgeridoos are literally that. And because they are meticulously tuned, shaped and finished by hand they take time to make and are only produced in small numbers – There is no part of the didgeridoo making process that is automated in any way.
Buy a Les Peach Didgeridoo Today!