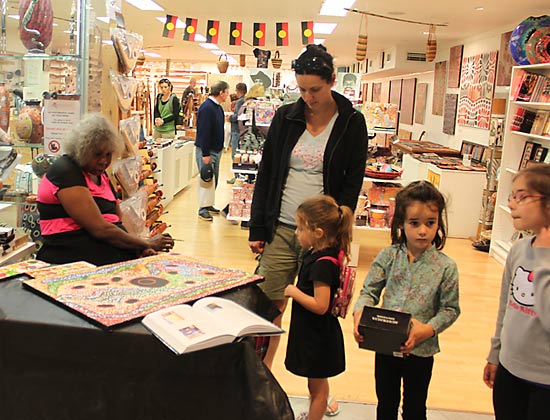 Over the last few weekends we have had the pleasure of having traditional desert artist Lynette Corby Nungarrayi painting at Spirit Gallery.
Born in 1958 Lynette Corby Nungarrayi began painting around 1990. She is a vital member of the Watiyawanu Artists of Amunturrngu Aboriginal Community Corporation.
Lynette Corby works in several mediums, as well as painting in acrylics and screen-printing onto garments. She is also a former assistant teacher of Luritja, her traditional language.
Lynette's paintings have gained considerable following, and her work has been part of several exhibitions, including the 2003 Telstra Awards Survey Show.
Lynette was chosen for the 20th Telstra National Aboriginal & Torres Strait Islander Art Award Survey Exhibition. The painting, Women's Law and Culture Meeting at Mt Liebig, is now in the collection of the Art Gallery of South Australia.
Her works feature in many collections, both here in Australia and overseas.
She regularly paints in the gallery on her visits to Sydney, so if you are in the neighbourhood why not drop in and check out her work.