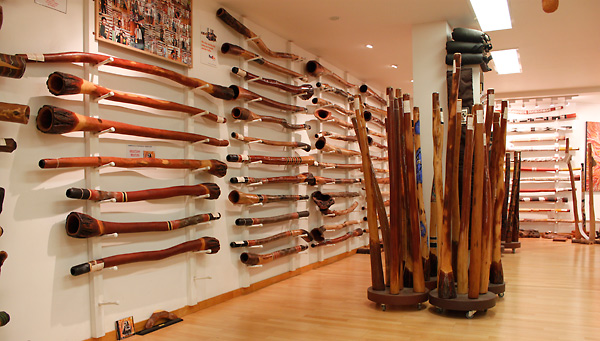 As we approach our busy Summer period here at Spirit Gallery we thought it's time for a quick update.
We now have almost 200 didgeridoos online. A range of prices, styles and keys to suite players of all levels.
We have just uploaded some new didgeridoos from Wix Stix with his much improved epoxy resin finish making his didges look and feel a million dollars!!  Also, some new Iron Bark didgeridoos and the intricate painted and burnt didgeridoos from Eugene Goolagong. A great new bunch of plain beginners didgeridoos are also now online, available both in natural finish or a painted finish.
We also introduce our newest maker Peter Sherwood of Natures Vibes. It's not often we take on new makers but Peter has ticked all the boxes for us and fits in perfectly into to Spirit Gallery range.
Peter Sherwood has been crafting didgeridoos for over 10 years. Residing in the Rockhampton region of Queensland Peter focuses on his local timbers with a preference for the Yellow Box and Bimble Box Eucalyptus types.
Peter's didges are a throwback to old style didge making. Tough solid didgeridoos finished with a classic thick strong gloss finish to highlight the natural grain and beauty of the timbers he uses.
Peter also employs some serious chisel work on the bell ends to open the sound up leaving us with a beautifully crafted Natures Vibes Didgeridoo.
In the next 2-3 weeks we are expecting more didgeridoos from  Adam ( CrookedStixz) Henwood, Tristan O'Meara, Kristian Brenton and Heartland Didgeridoos.
We now have over 350 paintings available online including new work from Anna Petyarre, Dulcie Pula Long, Debra Nangala and new pieces from the Warlukurlangu Community Art Centre.
Our exclusive gallery artists Rex Winston Walford and Anthony Walker remain extremely popular and have a variety of styles and sizes always available. Rex Winston is also available for custom orders with quick turnaround times of only 2-4 weeks.
Spirit Gallery will remain open every day throughout December and January only closing on xmas day. All didgeridoos and artwork are available online or can be viewed in the gallery if you prefer to visit us.
As always any questions, queries, feedback, requests feel free to drop us an e-mail at info@spiritgallery.com.au or call us on 61 (2) 92475961 and we will do our best to help you.
Many thanks
Spirit Gallery Team