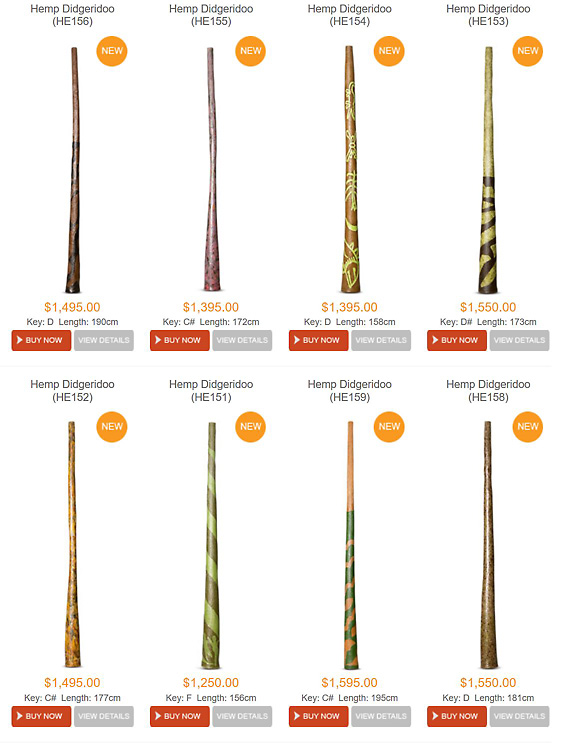 The new breed of hemp didgeridoos have finally arrived at Spirit Gallery with lots of funky shapes, colours, tapers, pressures and keys to choose from.
This new batch of hemp didgeridoos are also at a much lower price point than our previous hemp range, without compromising on the quality, making it more accessible to our hemp didgeridoo fans – and we know there are many of you out there!!
We have also received a lot of feedback from our customers and in response have focused on didgeridoos in lengths of 1.4-1.9 metres. No big crazy 2.2 metre long monsters that are a nightmare to carry around and travel with! 
We have also focused on more balanced tapers allowing all the features of the didgeridoo to work in harmony. Our new hemp didges have more gentle medium tapers as opposed to realy big bells that can sometimes be too bassy overriding the clarity of the didge – but don't worry big bell fans as we will still keep a couple of the big ended instruments for you guys!
These didges have been designed to induce both the subtle frequencies and deep resonance of sound and are a wonderful addition to the Spirit Gallery collection of quality instruments.
Well who makes our hemp didgeridoos? Let us explain!
Our Hemp Didgeridoos are produced by Norbert Schmid, one of the original patent holders and pioneers of the use of the hemp/hempstone for musical instruments.
Norbert has been manufacturing didgeridoos (and other instruments) from hemp for over 10 years, perfecting the process to produce in our opinion the most balanced and versatile hemp didgeridoos that we have played.
Norbert handcrafts and designs each instrument through a unique process allowing him to shape the inner space of the instruments to extremely fine tolerances. This way he can build a multitude of didgeridoos with different characteristics.
Hemp Didgeridoos are made of hemp cellulose bound with water. No additives are necessary. The binding is made by the chemical power of hydrogen eliminating the need for glues resins and synthetic adhesive agents. What is produced is a high quality 100% natural plant fibre material that is non-toxic and extremely durable.
The brilliance of this patented Austrian invention is that wet ground hemp fibre is turned into a material almost as hard as stone purely through the addition water.
Norbert has developed a worldwide reputation for the design and sound of his instruments, having recently collaborated with the world's best known didge player, Dubravko Lapaine, to produce his favourite tapers and shapes.
Through the use of non-toxic pigments Norbert also incorporates patterns and designs into his didgeridoos using his natural creative flair meaning that not only do these hemp didgeridoos sound good but they also look fantastic.
Every instrument is documented, tested and marked with an identifying serial number on the inside of the bell.
We are proud that Norbert has chosen Spirit Gallery to be his exclusive Australian retail outlet
Why use hemp in a didgeridoo?
An ancient cultivated plant, hemp has served mankind for thousands of years. It is one of the world's strongest natural fibres, valued for its strength and durability with products made from hemp having shown to outlast most other materials by many years.
Hemp is also very environment-friendly. No pesticides or herbicides are needed for its growth (as it is a weed in nature)
Hemp is used in food, jewellery, clothing, fuels, among many other goods. Leading fashion, footwear and cosmetic houses of today all dabble with hemp products and there is a growing trend to use this wonderful material in many diverse and new applications.
One of the most valuable parts of the hemp plant is the fibre, which through a process of wet milling makes its pliable enabling it to be moulded and then hardened into any shape. This allows Norbert to produce didgeridoos with superior resonance, incredible tonal and amazing acoustic qualities.
What you get with our new hemp didgeridoo
Superior resonance
Incredible tonal quality
Optimum backpressure
Increased responsiveness
Durable temperature and climate resistant material
Easy horn/toots
Non-toxic environmentally friendly
BUY YOUR HEMP DIDGERIDOO ONLINE TODAY